Chicharronera tio charlie, a beautiful and spacious restaurant in Naranjo, is a 5-minute drive from the San Jose Airport. The spot provides unbeatable dishes for both locals and travelers. As you visit this spot, you will have the best lunch and dinner in the entire area. Since the restaurant easily gets full, you'd better make a reservation.
Foods at Chicharronera tio charlie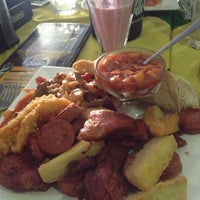 The menu offers delicious dishes, such as spaghetti, hamburgers, Gordon Blue, ceviche, Lasagna, fish, Chicharrones, Casado, tapas, and more.
The food is served in large portions. It comes loaded with many other foods, such as salad, fried plantains, beans, French fries, rice, and pork belly.
To whet your appetite, you can order ceviche. Then, you can order fish; it is fresh and delicious.
You can also ask for spaghetti, which is sprinkled with tasty gravy, prepared with fresh ingredients. It could be with basil, too.
You can't miss out on Chicharrones, one of the restaurant's specialties. They come in a large plate with lean meat.
Aside from the tasty foods, the menu also has flavorful drinks that you can order.
Services at Chicharronera tio charlie
The restaurant provides the clients with great services; the staff is friendly and professional. So, visitors feel at home with them; the communication with the clients is smooth, thanks to their fluency in English. If the clients ever get dissatisfied with their entrées or need more food, the staff always sees to it that their needs are met. Interestingly, there is a funny waiter who always delights the clients with his jokes.
Given the locals' low income in Naranjo, the prices are way more affordable than other places.
Ambiance
The restaurant is well decorated with colored walls; it has a relaxing atmosphere. After dining, you can immerse in chats with friends in the roomy bar.
Information
Phone number: 00 506 2450 4827
Radial de Naranjo de Alajuela, Entrada Principal | Naranjo, Continuo a Lubricentro la Fuente, Naranjo 20601, Costa Rica